For the fourth of IPEX's Industry Insights on decarbonising the railway, we have teamed up with Arcadis to provide a system-wide view of the opportunities to maximise the benefits of Discontinuous Electrification.
Background
The decarbonisation of the nation's infrastructure and industry is at the forefront of political and social discourse. The reality of climate change and its growing influence on our environment and ecosystems are changing both public attitudes and political thinking. 
Railways are considered a 'green' and sustainable transit solution, particularly for medium range journeys and for urban areas with large population densities; however, the continued use of fossil fuel is provoking scrutiny and the industry can no longer sit on its 'environmental' laurels.
In February 2018, the Rail Minister stated that he would like to "take all diesel-only trains off the track by 2040". In June 2019, the Prime Minister followed this by making a legal commitment to reach net zero carbon emissions by 2050, making Britain the first major economy to do so.
As of February 2020, the Government had committed to banning the sale of petrol and diesel road vehicles by 2035. These commitments will require a total change in the considerations for power sources for the British railway industry both for train power and also for supporting fixed infrastructure.
Britain has made significant changes over the last five years in power generation, with the majority of electricity now generated through renewable sources and biomass fuelled power stations. Britain's three remaining coal-fired power stations are now used for standby duties only. Statistics released in February 2020 showed that the UK's greenhouse gas emissions fell by 2.1% between 2017 and 2018.
Diesel engine emissions technology and legislation have combined to improve the quality of clean air in the UK but it is notable that the technology used on the railways lags behind other modes, particularly road transport.
The emissions regulation covering self-propelled railway vehicles is EC Directive 97/68/EC (emission of gaseous and particulate pollutants from internal combustion engines to be installed in non-road mobile machinery) and was adopted in 1997. It was enshrined into UK Law as the Non-Road Mobile Machinery (Emission of Gaseous and Particulate Pollutants) Regulations 1999.
This directive sets out the current diesel  emissions category for "railcars" (i.e. diesel multiple units) and locomotives as Stage IIIB while road transport is currently required to comply with Stage IV. Stage V for railways will be mandatory from 2021.
The current population of diesel electric "bi-modal" vehicles, procured in response to a faltering programme of electrification delivery, are perhaps the nadir of sustainability in a vehicle. Fuel and diesel power unit mass must be drawn by electricity. This is a far from optimal solution even without the additional complexity giving ever-increasing reliability and availability issues. 
Regardless of the poor application via bi-modal fleets, diesel is being killed off as a technology in the 'big picture'. Regulations governing engine efficiency and CO2 emissions and the acceleration of government policies to phase out diesel and petrol cars will effectively make manufacture of diesel power units uneconomical in years to come. While rail vehicles might be further decarbonised through improved practices and usage patterns, the end of fossil fuel as a viable option for power generation more generally forces creative thought on the future of traction.
Whilst the traditional non-diesel solution has been simply to implement electrification projects, in recent years the delivery and execution of these programmes has been mired in spiralling cost and programme overruns. The industry's reputation for being able to deliver such programmes has taken a significant knock, while political and public perception of the UK's electrified infrastructure is not positive.
On-board storage – electrification made sustainable
Some of the most promising opportunities are in on-board storage. The unique advantage of this approach lies in it making a virtue of the discontinuous electrification of the UK network while promoting a more sustainable solution, one that offers an immediate transition to all-electric with all the benefits this provides.
The continuous development of battery technology over the last decade has meant an inherent annual growth rate of between 5 and 8% in gravimetric energy density – essentially power-to-weight ratio – providing more power from smaller scale units.
Analysis of the viability of the technology and a series of industry research & development phases and trials have demonstrated that it is feasible for a charged battery traction unit to provide enough electric traction to sustain a short route timetable over a range of 50 km. One manufacturer has recently signed an order in Germany for battery-powered units with a range of 150 km (1).
Indeed, many fleets are currently being procured as either battery-ready or (as with the Tyne and Wear Metro and Transport for Wales' Tri-modes) preinstalled with units which provide backup/resilience to their main overhead electric traction systems.
Batteries are now small and light enough to essentially replace diesel engines and generators. Rolling stock can draw power from existing overhead wires or conductor rails, whilst maintaining a fully charged battery pack for use where electrification ends. When returning to an electrified part of the infrastructure the vehicle will recommence under lineside traction and simultaneously recharge the battery units.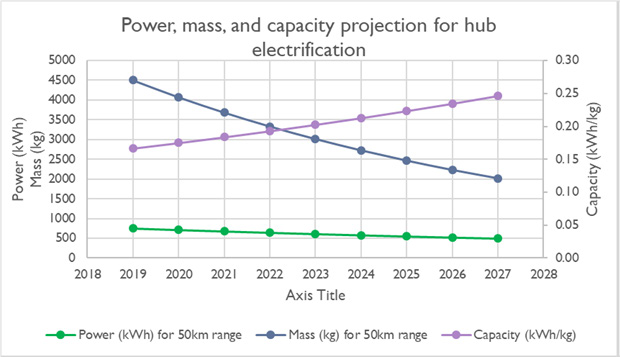 There are several advantages to this approach over pure diesel or bi-mode traction: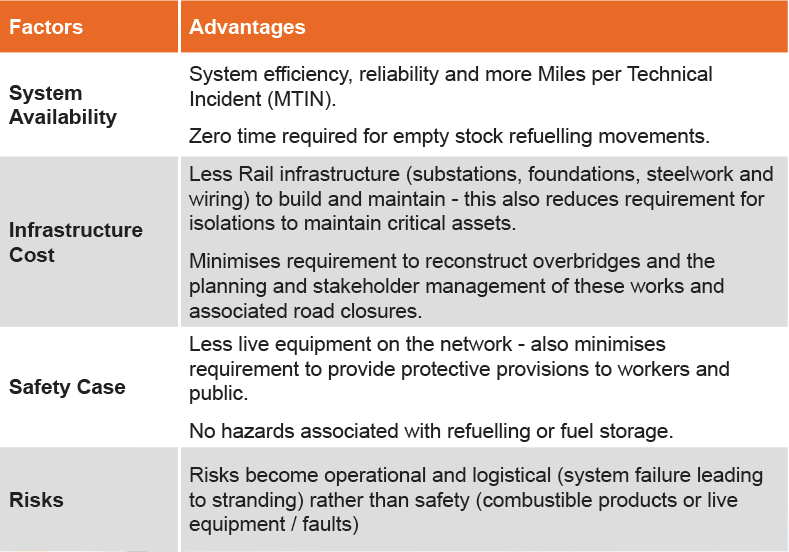 Not only will a successful solution provide public economic benefits through journey time and capacity enhancements, but also it will drive modal transfer from road to rail – more useful service patterns and increased connectivity will make rail travel the optimal value proposition to all.
Implementation and investment models
As always with the introduction of innovative upgrades to the railway system, the associated funding required to deliver the changes is critical. The simple fact is that capital investment in railway technology needs to be paid for. The advantages of a hybrid pure electrical system can provide significant leverage here.
The current model of investing in railway infrastructure relies heavily on treasury funding schemes through Network Rail or (to a lesser extent) local authorities. However, the cost of upgrading or installing a fleet with battery technology can be borne by the train manufacturer, financed either through a concession to provide a lifecycle fleet or, more attractively for Government, investment solicited from funding institutions and investment vehicles. This model would enable a return to be delivered across the life of the fleet; essentially similar to the current operation of Rolling Stock Companies (ROSCOs).
An added value to potential investors would be the certainty of return across a defined timescale, while the sustainability of the solution would be welcome in an era where 'ethical' investment is becoming more prevalent. Many larger institutions are turning away from investing in polluting or carbon heavy industries while investment in decarbonising technologies is becoming increasingly attractive as the focus shifts.
Furthermore, the political impetus at Central Government and Local Authority level will become increasingly aligned to public opinion on climate change and preferred general approaches to sustainability. A value-driven and policy-aligned model will make the proposition that much more acceptable to such stakeholders.
Benefits
We have outlined the solution in terms of viability, but to gain momentum within the industry there is a need for a robust business case and the demonstration of tangible benefits against cost. Specific elements of the business case include: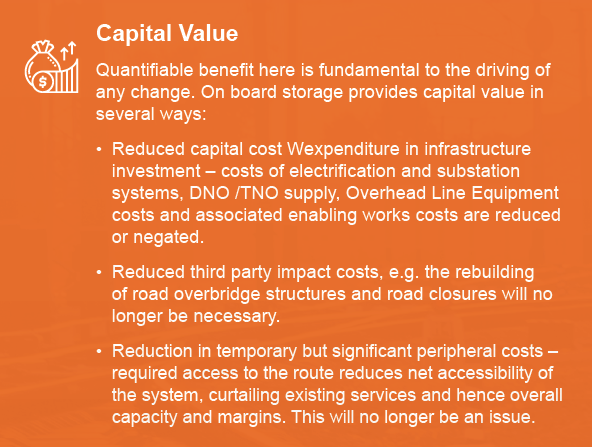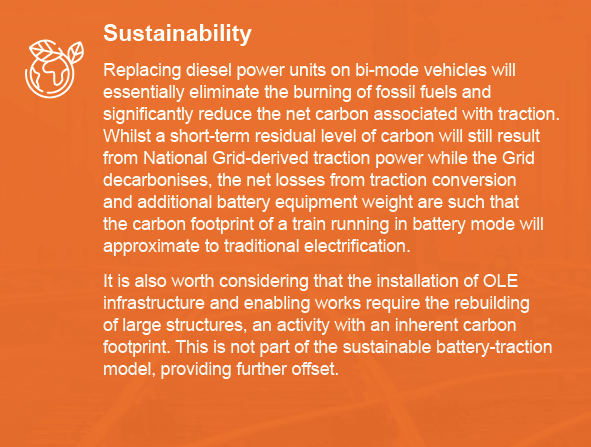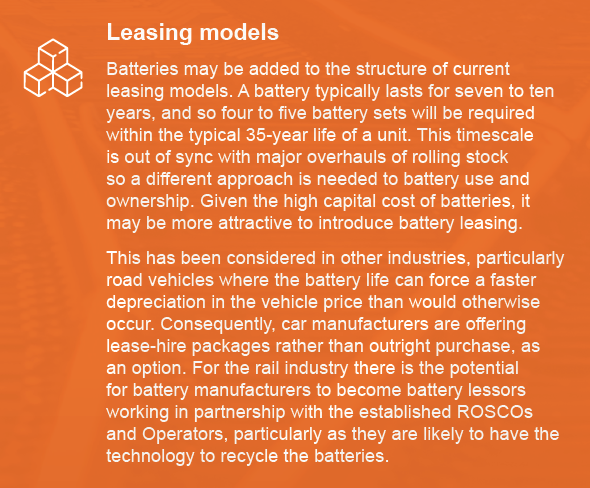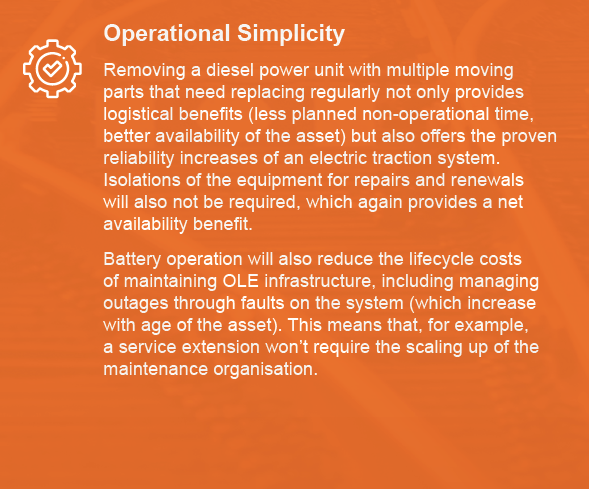 Applications
The UK's existing electrified skeleton could be enhanced to the point where all remaining 'off wire' journeys are battery capable – leading to a complete elimination of fossil fuels on commercially operated railway systems. 
An excellent example would be the reopening of passenger services on the Northumberland Line. Electrifying the section from Benton Junction through to Ashington, a route length of approximately 20 miles, would add significant cost to the scheme. This would include expensive technical interfaces with the adjacent DC Metro system which runs parallel for a significant proportion of the route, passing under a number of major roads. 
A service which ran on battery powered traction for this section would require far less infrastructure while future electrification of the route could be undertaken for resilience or expansion at a later date. 
Rather than replacing electrification, reducing such scheme costs can actually radically increase the viability and strength of the business case for electrifying more tertiary routes and services in the long term. 'End of service' provision as electrification of routes is completed may be built in as a fundamental technology benefit within the business case for on-board storage. 
Existing services could be replaced in a cost-effective way with a significant shift to electric. For example, the Voyager fleet currently on service on CrossCountry routes, instead of being replaced with diesel bi-modes could use batteries off-wire to link up sections. Routes would be made entirely non-diesel with only limited strategic extension of electrification. Scaling this up, the entire UK network could be made non-diesel without significant infrastructure cost increases.
Summary
So, will this be the death knell for diesel traction? Certainly, if the reliability of battery technology can be assured in service this would be an excellent tool in decarbonising the railway. 
The proliferation of this technology alongside judicious strategic investment in electrified infrastructure in the right places will provide a sustainable model for radically decarbonising the railway system at a fraction of the previously anticipated cost. 
Arcadis and IPEX are advocates of this approach to infrastructure development and are willing to support infrastructure and rolling stock owners in maximising the financial and carbon return that could be realised.
(1) 55 Stadler Flirt Akku to replace diesel trains, electrive.com, 21 June 2019, accessed 04 March 2020, https://www.electrive.com/2019/06/21/germany-55-stadler-flirt-akku-to-repace-diesel-trains/