The change in working practices, which has brought about the change in travelling habits, of the people of Britain during and following Covid-19, has provided an ideal opportunity to consider a reset of rolling stock interiors. Is this the time for Operators and ROSCOs to reconsider 3+2 seating? Who does sit in the middle seat?
Travelling patterns
For years, the image of the railways, particularly those in the south, has been of crammed commuter trains spilling their passengers out at the big termini of stations like Waterloo, Victoria, King's Cross, and Liverpool Street. Despite the changes in rolling stock, railway technology, and fashion, the images captured in the British Transport Film Terminus from 1961 remained relevant through the decades. Then in March 2020, three years ago, all that changed with the outbreak of Covid-19. Overnight the commuter trains were empty, the termini quiet, and software companies ramped up with better means of remote working.
Fortunately, since the early days of the pandemic and the lockdowns, the railways have come back, and are coming back stronger. In fact, this month, the latest figures showed that the national figures were back to pre-pandemic levels. This is a great result, but what that statistic does not reveal is when people travel or what for. The Office of Rail and Road's statistics for the last quarter show rather better the trends that have emerged.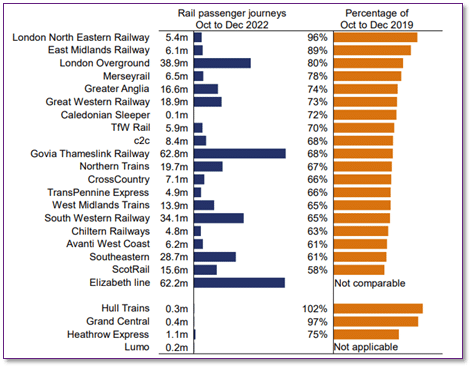 This is even more starkly demonstrated in Table 1 taken from the ORR's statistics which shows ticket sales as a percentage of earlier years. What this is demonstrating is that the ticket sales that have come back the strongest post-pandemic are Advance and Off Peak. These are not the tickets of the regular commuter, and this is further bolstered by the season ticket percentage which is unlikely to return to previous levels.
| | |
| --- | --- |
| Ticket types | Percentage |
| Advance tickets | 84% |
| Anytime or Peak tickets | 64% |
| Off Peak tickets | 76% |
| Other tickets | 42% |
| Season ticket | 28% |
Table 1. 2021-2022 ticket types as a percentage of 2019-2020 [2]
The country is unlikely to see a return to the crammed trains of the past, as with the ability work remotely, people will simply choose not to travel when the trains may be busy if they do not need to. Office workers can travel when it suits them and leave the traditional commuter trains to those who need to work on site such as essential workers. This shift also aligns with recent calls to change the traditional peak and off-peak ticketing system which is now disadvantaging the lower paid workforce who must travel in the peak.
With this dramatic shift in travelling behaviours, which is unlikely to change significantly as people have realised the benefits of working from home, or hybrid working, it is probably time for the railways to consider changing train interiors to suit these new patterns.
Seat layouts
For many years, the trains travelling into major population centres have utilised a 3+2 seating arrangement. This may have been considered suitable decades ago, but with the general increase in size of the population, the passengers sitting next to each other in the three-seat portions have a very uncomfortable journey. With Britain's small loading gauge, to achieve 3+2 seating, each seat is stripped of any arm-rests. Arm rests do not just provide a location for a passenger's arms, they space the seats to allow for the passengers' shoulders. The journey is, in fact, so uncomfortable that general observations show that a train needs to be full to standing before passengers resort to using the middle of the three seats.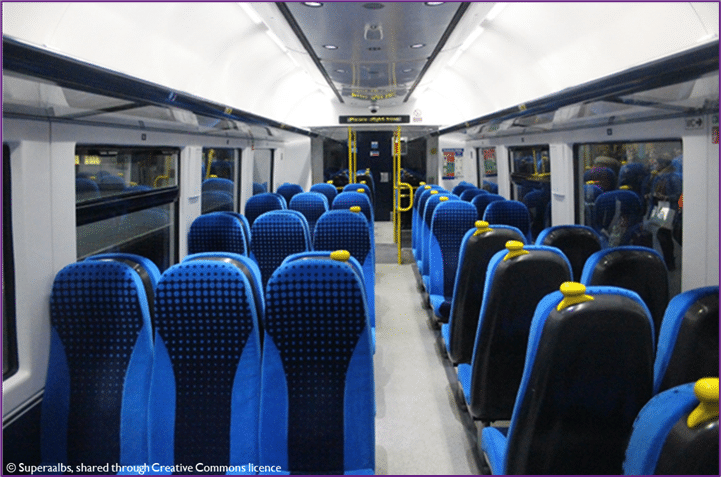 This situation is not unique to Britain. In Sydney, the commuter trains on the heavy rail network are fitted with 3+2 seating and even with their more generous loading gauge and wider seats, the middle seat in a set of three is filled last, and is often left empty while the vestibule area is at crush loading.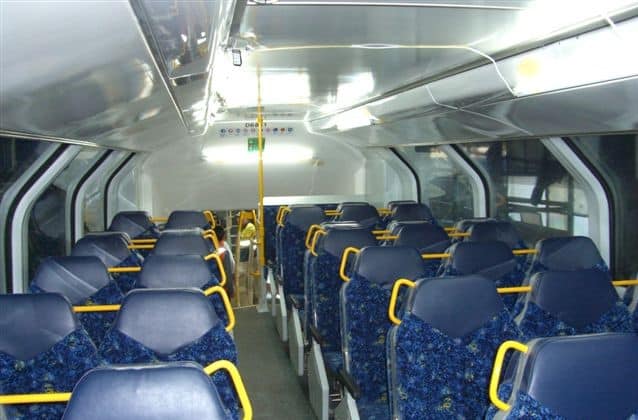 Not only that, but seating reduces overall capacity of a train as a seated person takes up more room than a standee. To use the example shown in Figure 2, a Class 333 fitted with 2+2 seats rather than 3+2 seats would lose around 70 seats which are probably not being used very often anyway, but would gain an additional capacity of around 120 people in crush laden conditions.
3+2 seating also creates a further disadvantage in that it narrows the aisle of the train, particularly as the seated passengers spill off the edge of the seats, which is the last thing needed when a train is fully loaded and people are getting on and off at different stations. A narrow aisle merely hinders movement and has the potential to increase dwell times.
Pre-pandemic, the argument for 3+2 seating was weak. The middle seat in a three was used last, if at all; it made the journey incredibly uncomfortable for all three passengers on a set of three; it reduced capacity of the train; it had the potential to increase dwell times; and from a maintainer's and owner's point of view there is more to maintain and more to overhaul.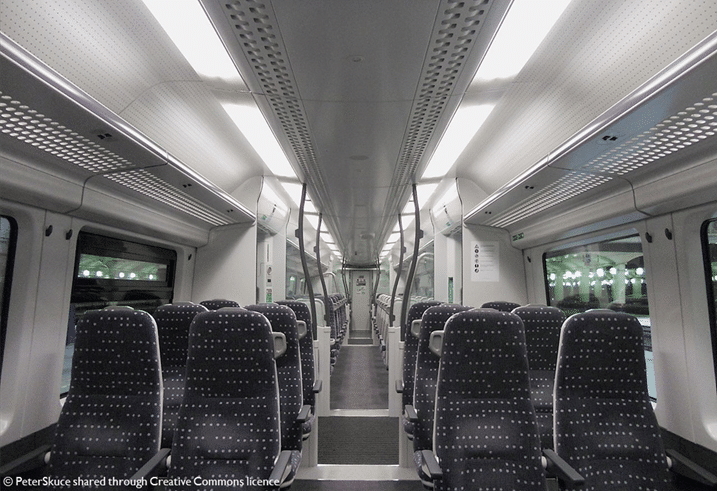 Post-pandemic, 3+2 seating has no place. Travel has changed. People's expectations increase year on year. To get passengers back on our railways we need to encourage people to use the railways and leave the car at home. That is not going to happen if their journey is in an uncomfortable train because it has no arm rests on the seats because it was designed for a travel style that is consigned to the history books.
Great British Railways is being marketed that it will be the step change we need. If it, as it should, take on Network Rail's mantle of Putting passengers first, it needs to sweep through all areas of the railway and make it attractive to those passengers. Rolling stock has not been talked about as part of this transformation yet. Perhaps making the interiors comfortable and fit for the post-Covid 21st Century is a good place to start.
---
[1] Passenger rail usage October to December 2022, Table 1223, Office of Rail and Road, London, 16 March 2023, accessed 24 March 2023, https://dataportal.orr.gov.uk/media/2190/passenger-rail-usage-oct-dec-2022.pdf
[2] Table 1222 – Passenger journeys by ticket type, Office of Rail and Road, London, 16 March 2023, accessed 24 March 2023, https://dataportal.orr.gov.uk/statistics/usage/passenger-rail-usage/